Food and beverage are integral parts of every individual's life, irrespective of their age group. We, at Epoch, ensure that our elderly residents enjoy every meal along with plentiful nutrition intake.
This assurance in service quality comes from our food & beverage team, anchored by Jagdish Rewar, food & beverage manager at Epoch. One of our first team members at Epoch assisted living, Jagdish finds working with the elderly very fulfilling and rewarding. Learning, exploring, and sharing his experience with food, nutrition, and elderly for the past 7 years, he is eager to discover more!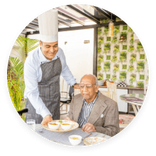 Jagdish Rewar
Food & Beverage Manager
Sharing some posts and blogs from Jagdish's knowledge bank that will help understand the fundamentals of food and nutrition for seniors.